Yesterday, I hosted a free Parent Night in McLean designed to cover what families need to know about the changing SAT and ACT tests. During my presentation, I discussed each of these tests in detail so families could understand upcoming changes and make effective testing plans. For families who weren't able to attend, I wanted to provide a recap of my presentation.
The College Board's SAT is traditionally the most popular college admissions test for high schoolers. Most colleges require students to submit SAT or ACT scores (though an increasing number are making scores optional), and students typically take these tests as juniors and seniors. While the College Board will revise the SAT substantially beginning in Spring 2016, rising seniors (class of 2016) and many rising juniors (class of 2017) will take the SAT before it changes.
SAT Structure
As of summer 2015, the SAT is a relatively long test, containing 10 sections lasting a total of 3 hours and 45 minutes. The test includes Critical Reading, Math, and Writing content, plus one experimental section that is not counted in a student's final scores.
SAT Sections and Subject Matter
The SAT currently tests students on Critical Reading, Math, and Writing.
Critical Reading: Three sections of multiple-choice questions
25 minutes per section
Reading comprehension questions based on short, long, and paired passages
Vocabulary-based sentence completion questions
Math: Three sections of multiple-choice questions, with free response questions included in one section
25 minutes per section
Math content including numbers and operations, algebra I, algebra II, functions, geometry, and basic statistics and probability
Writing: Two sections of multiple-choice questions and one essay
25-minute written essay that requires students to respond to an open-ended prompt
25-minute multiple-choice section covering grammar usage, sentence corrections, and paragraph corrections
10-minute multiple-choice section on grammar usage
Experimental Questions: One section of multiple-choice Math or Critical Reading questions
25 minutes in length
Not included in students' scores
Used to test new material for fairness and accuracy
Students will not know which of the SAT's 10 sections is experimental
SAT Scores
Critical Reading, Math, and Writing are each scored on a scale of 200-800 points, for a maximum possible score of 2400. Some average SAT scores by location are listed below:
National average = 1474
Virginia average = 1517
Northern Virginia average = 1663
SAT Score Reporting
The College Board offers an option called Score Choice on the SAT, which allows students to select which scores they share with colleges. Students may send scores from all tests, several tests, or only one test date. Students and their high schools will always receive scores from all test dates, but Score Choice is a good way to make sure colleges only see desired scores on applications.
Typical SAT Testing Schedule
Students typically take the SAT 2-3 times: once or twice as juniors, and again in the fall of senior year. Seniors applying to schools early action or early decision need to take the SAT by the October test date, while those applying regular decision can often still take the November and December SATs. Students should still check with each school to make sure they don't miss important testing and application deadlines.
Long considered an alternative to the SAT, the ACT is now the most popular college admissions test in the United States. Since most colleges require test scores in some format, many students choose to take the ACT, either along with or instead of the SAT.
ACT Structure
At 3 hours and 25 minutes (including the optional essay), the ACT is a bit shorter than the SAT. The ACT's format, with five relatively long sections in a predictable order, also differs from the SAT's, which has 10 fairly short sections in relatively random order. Each ACT content area is included on only one section.
ACT Sections and Subject Matter
Much like the SAT, the ACT covers Reading, Math, and Writing skills, but it also contains a Science reasoning section, and there are significant differences in terms of subject matter and structure.
English
45 minute section
75 multiple-choice questions covering standard English grammar and rhetoric, as related to reading passages
Math
60 minute section
60 multiple-choice questions on material such as arithmetic, algebra, geometry, trigonometry, and statistics
Reading
35 minute section
40 multiple-choice reading comprehension questions based on passages
Science
35 minute section
40 multiple-choice science questions focusing on the interpretive, analytical, and problem-solving skills required by the natural sciences
Writing
Optional 30 minute section
Essay measuring writing skills emphasized in high school English classes and entry-level college composition courses
ACT Scoring
Each ACT section is scored on a scale of 1-36. Students also receive a composite score that averages the four section scores according to the same scale. Students who take the Writing test also receive essay scores ranging from 2-12, and combined English/Writing scores are also provided. National average scores for the ACT are usually around 21:
US Average = 21
Virginia Average = 23
Northern Virginia Average = 25
Many students find the ACT less strategic than the SAT, chiefly because incorrect answers are not penalized. Since this is the case, students should make sure they answer all of the questions on the ACT to maximize their scores. However, the ACT is faster paced than the SAT, so students who work slowly may struggle to answer all of the questions on the ACT.
ACT Score Reporting
Much like the SAT, the ACT permits students to choose which test scores they send to colleges.
Typical ACT Testing Schedule
Students typically take the ACT 2-3 times: once or twice as juniors, and once more senior year. Students should check on a school-by-school basis to make sure they don't miss any ACT testing deadlines. As with the SAT, math tends to be the subject that dictates ACT testing timelines. The ACT tests slightly higher-level math material than the SAT, including concepts from trigonometry, so some juniors may need to wait to take the test.
With the ACT growing increasingly popular and criticism of the SAT mounting, the College Board recently announced a major overhaul of the SAT, which will take effect in Spring 2016. The new SAT will include major changes to the test's structure, scoring, and subject matter, which means that students who will be affected (classes of 2017 and younger) will need to understand what they'll be taking.
New SAT Structure
The new SAT lasts 3 hours and 50 minutes, including an optional 50-minute essay. The test will be broken into three sections: Evidence-Based Reading and Writing, Math, and an optional Essay. Unlike the current SAT, the new test will always feature a predictable order of test sections: Reading, Writing and Language, Non-Calulator Math, Calculator Math, and an Essay.
New SAT Sections and Subject Matter
The new SAT will not test science skills with a specific reasoning section like the ACT, but it will include science-related content on reading and math sections in an effort to emphasize real-world applications of skills.
Reading
65 minute reading section with 4 single passages and 1 paired passage, covering themes such as science, psychology, current events, history, and literature.
Reading passages may also include data tables, charts, or infographics
Vocabulary will not be tested directly, but some questions will relate to the meanings of words in specific passsage contexts
Writing and Language
35 minute language section including 4 passages that test students' editing, grammar, and punctuation skills
Writing and Language passages may also contain data tables and infographics
Non-Calculator Math
25 minutes primarily testing algebra concepts and data analysis skills
Will include a few trigonometry concepts, unlike the current SAT
A few more free-response questions than the current SAT
Calculator Math
55 minutes, again focusing on algebra and data analysis
Will include limited amounts of geometry and trigonometry
Emphasis on real-world problems that reference Social Studies and Science
Essay
Optional 50 minute section
Requires student to read a long passage and analyze how the author builds an argument, citing evidence and using reasoning
Emphasis on rhetorical devices and logical reasoning
Graded apart from Reading and Math and reported separately
Unclear how many colleges will require this section, but students may want to take it to be safe
New SAT Scoring
Somewhat confusingly, the new SAT will return to the pre-2005 1600-point scale, with the Reading and Math sections scored from 200-800 points. The optional essay will receive a separate score. Students will also receive cross-test scores in Science and History/Social Studies, but those scores will not directly factor into the cumulative Reading and Math scores.
The new SAT is expected to be less strategic, primarily because students will no longer be penalized for incorrect answers. The College Board has not yet released scaled scores or concordance charts for the new SAT, but it seems likely that many of the test-taking skills (such as guessing, pacing, and stamina) that worked on the old SAT will still be effective on the new test.
New SAT Score Reporting
The new SAT's score reporting is expected to function much like the system does for the current SAT.
Likely Testing Schedule for the New SAT
Rising seniors (class of 2016) will not be affected by the new SAT, but younger students will need to take it into account. Rising juniors (class of 2017) may end up taking the current SAT in the fall of 2015, the new SAT in the spring or fall of 2016, both SAT tests, or the ACT. Math readiness is one of the key factors in determining testing decisions
The chart provided below outlines the similarities and differences between the current SAT, new SAT, and ACT:
Current SAT
New SAT
ACT
Structure
10 sections

3 Critical Reading
3 Math
2 Writing multiple choice
Essay (required)
1 Experimental section (ungraded)

4 sections, plus an optional essay

Evidence Based Reading
Evidence Based Writing and Language
Non-Calculator Math
Calculator Math
Essay (optional)

4 sections, plus an optional essay

English
Math
Reading
Science
Writing (optional)

Length
3 hours, 45 minutes
3 hours, 50 minutes (including essay)
3 hours, 25 minutes (including essay)
Grading
5 answer choices, students lose 1/4 point for wrong answers
4 answer choices, no penalty for wrong answers
4 answer choices (5 for math), no penalty for wrong answers
Scoring
Total Score from 600-2400

Critical Reading from 200-800
Math from 200-800
Writing from 200-800
Essay included in Writing section

Total Score from 400-1600

Evidence Based Reading and Writing from 200-800
Math from 200-800
Cross-test scores for Science and Social Studies
Essay scored separately

Composite Score from 1-36

English, Math, Reading, and Science each from 1-36
Essay scored separately

Reading Content
Vocabulary and reading comprehension on short, long, fiction, and non-fiction passages
Almost no vocabulary. Emphasis on reading comprehension on long and non-fiction passages. Includes infographic analysis
No vocabulary. Predictable non-fiction and fiction reading passages. Requires close reading and analysis
English Content
Correct or identify grammar errors. Includes questions on general paragraph organization
Revise and edit a passage for grammar, structure, rhetoric, and punctuation. Includes infographics
Revise and edit a passage for grammar, structure, rhetoric, and punctuation
Essay
25 minutes. Always the first test section. Addressed open-ended topic
50 minutes. Always the last test section. Analyze a writer's rhetorical choices
30 minutes. Always the last test section. Analyze 3 perspectives and articulate own point of view on relevant topic
Math Content
Tests number properties, Algebra 1, Algebra 2, and Geometry. Calculator permitted and formula sheet provided. Includes free response questions and "tricky" math problems
Tests Algebra 1, Algebra 2, Data Analysis, Geometry, and Trigonometry. Includes non-calculator section. Formula sheet provided. Includes free-response questions. Problems are still somewhat "tricky"
Tests Algebra 1, Algebra 2, Geometry, and Trigonometry. Calculator permitted but no formula sheet provided. No free-response questions. Problems are fairly straightforward
Science Content
No science section
No separate science section, but science-related questions included in all other sections
Science section tests science reasoning and data/chart analysis skills
Overall Emphasis
Logical or "tricky" questions that usually favor strategic test takers
Evidence-based reasoning for real-world problems
Straightforward, curriculum-based questions at a fast pace
We can also compare these tests using two main criteria: aptitude versus achievement, and power versus speed. The current SAT prioritizes a student's testing aptitude and power. In other words, it assesses how strategic and resourceful a student is due to its scoring policies and question styles. The ACT, on the other hand, focuses more on achievement (i.e. subject matter) and speed, as ACT questions tend to be direct, relatively advanced, and fairly fast paced. The new SAT will fall somewhere between the two. We expect it to be intermediate in terms of aptitude versus achievement, with a slight focus on subject matter more akin to the ACT. However, the new SAT's pacing and question styles should be relatively similar to the SAT, with slower-paced and less direct questions than the ACT.
Below is a list of SAT and ACT test dates for the 2015-16 school year:
| | |
| --- | --- |
| SAT Dates | ACT Dates |
| October 3, 2015 | September 12, 2015 |
| November 7, 2015 | October 24, 2015 |
| December 5, 2015 | December 12, 2015 |
| January 23, 2016 | February 6, 2016 |
| March 5, 2016 (new SAT) | April 9, 2016 |
| May 7, 2016 (new SAT) | June 11, 2016 |
| June 4, 2016 (new SAT) | |
I've also included two charts that outline the different factors students should consider as they decide which test(s) to take and when to take them: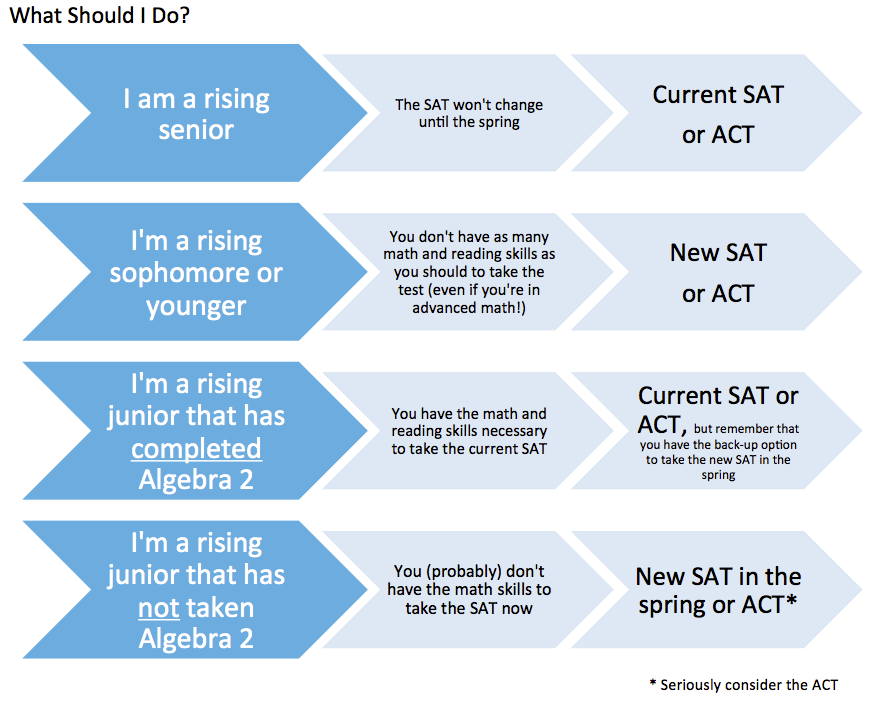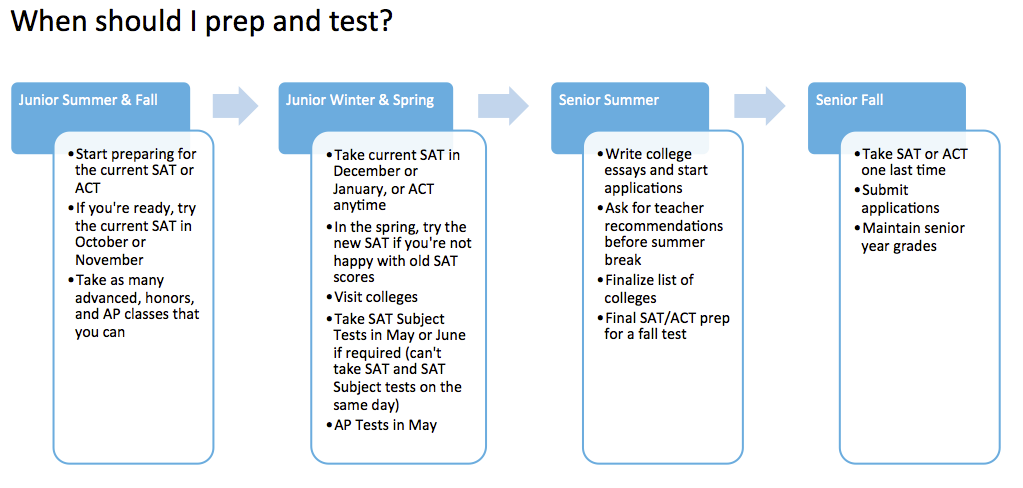 Yesterday, many families had questions about the SAT Subject Tests. Some schools do require students to take 1-3 of these tests in order to assess learning in specific areas and assist placement. These one-hour tests cover a variety of topics, including math, science, foreign languages, history, and more.
Timing can be tricky when it comes to SAT Subject Tests because they are offered on the same test dates as the SAT. Students can take up to three Subject Tests on one day, but they can't also take the full-length SAT, so Subject Tests require some advance planning. May and June tend to be especially popular dates for Subject Tests, since they fall near AP tests and final exams, and allow students to apply their year-end review. Depending on the college, applicants who take the ACT may also need to take SAT Subject Tests, so we recommend that students plan ahead and research each school's testing requirements to avoid any last-minute surprises.
I enjoyed the opportunity to share this information with so many of our Northern Virginia families yesterday. If you have any questions about the current SAT, new SAT, or ACT, please don't hesitate to contact us in McLean, Great Falls, or Charlottesville. We have a full range of private and group prep options for the SAT and ACT, and we would be happy to help you formulate an effective testing timeline and preparation plan!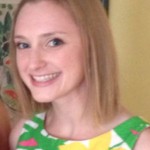 Erin Doyle
Director of Operations
Georgetown Learning Centers