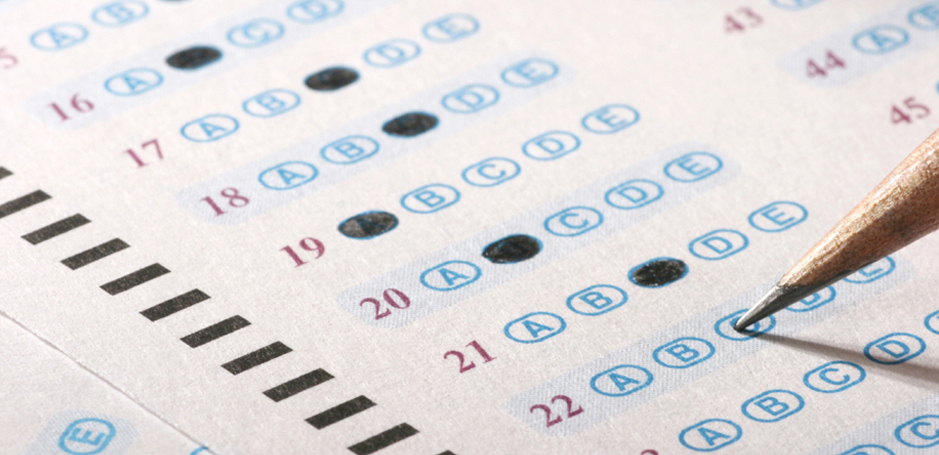 SAT Scoring
On the SAT, each multiple choice question has 4 answer choices. Students receive 1 point for correct answers and receive no credit for blank or incorrect answers, so students should answer every question. There are 13 math questions (5 in the No Calculator section, 8 in the Calculator section) which are considered "Free Response." For these questions, students are not given multiple choice options and must grid their numerical answers in the boxes provided.
Each student receives a raw score based on the number of questions answered correctly, which is then converted to a scaled score. The Evidence-Based Reading and Writing score is out of 800 and the Math score is out of 800. Both sections are added together for the cumulative SAT score out of 1600. The essay is scored separately by two independent graders. Each grader gives the essay a score of 1-4 for each of three areas: Reading, Analysis, and Writing. The essay score is not factored into the cumulative score.
In addition to the cumulative score, the Redesigned SAT will provide students with a variety of Subscores and Cross-Test scores. Subscores are meant to give students information on their abilities in certain competencies, like Data Analysis, Standard English Conventions, and Command of Evidence. There are also two Cross-Test scores to describe students' performances on Science and History/Social Studies questions throughout the entire test.
GLC's Tips on Handling SAT Scoring
DO answer questions you know.
Each question is worth the same amount of points, so the smart strategy is to find the ones you know you can answer correctly and avoid spending time on the ones you don't know.
DO understand the rubric the graders use for the essay.
You can't write a perfect essay without knowing how you can earn the highest possible score.
DON'T worry too much about Subscores and Cross-Test scores.
You won't know which questions contribute to these scores, and colleges won't look too closely at these anyway, so keep your focus on getting as many questions right as you can.
DON'T forget about the math free-response questions.
About ¼ of the math questions require you to supply your own answer, so make sure you do some of these practice questions in addition to multiple choice ones.
While each SAT section generally has an average score around 500 points, there is some minor variation across the Evidence-Based Reading and Writing and Math sections.
Even the smartest students can miss out on points on the SAT when they don't understand exactly how it's scored. GLC's SAT curriculum gives students the information, individual attention, and targeted feedback they need to build test-taking confidence and maximize their SAT scores.
Score-Boosting Strategies
Students who understand what to do on the SAT generally score well, but students who understand how the SAT is graded score the best. Our proven program—a local leader in Northern Virginia and Charlottesville for the past 18 years—teaches each student the ins and outs of SAT scoring so he/she knows how to eliminate unlikely answer choices, make educated guesses, and turn the test's structure and scoring rules into an advantage.
Targeted Feedback
The SAT tests a wide variety of Reading, Math, and Writing topics across a test that lasts nearly four hours. This makes improving on the SAT seem daunting for many students, which is why we emphasize data-driven feedback that pinpoints each student's strengths, weaknesses, and opportunities for improvement. Our diagnostic tests help students and parents track progress and identify areas where a bit of additional attention might yield huge improvements on the SAT.
Individual Attention
The lack of individual attention is the major weakness of many SAT classes, and it's something that we set out to rectify from the very beginning. Twice a week, our SAT students have the opportunity for individual work with our instructors in our Study Lounges. These offer great opportunities for students to receive clarification on tough questions, shore up areas of weakness, and learn effective strategies from teachers who know how to succeed on the SAT.
At the end of the day, students prepare for the SAT because they want to boost their scores. Since 1998, we've helped over 5,000 students in Northern Virginia and Charlottesville improve their SAT scores! Click the button below to learn more about our programs, view class schedules, or register for SAT Prep.
SAT Success at GLC!