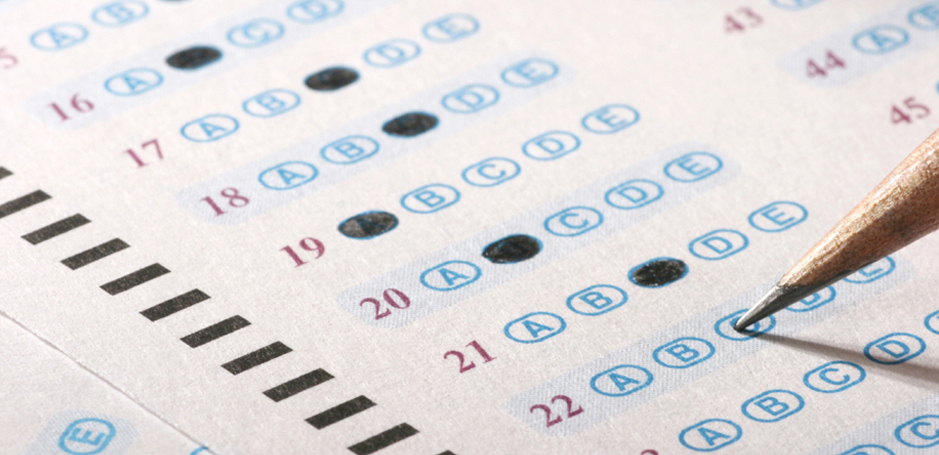 ACT Scoring
Multiple choice questions on the English, Reading, and Science sections have four answer choices. Questions in the Math section have five answer choices. Students receive 1 point for correct answers and receive no credit for blank or incorrect answers, so students should answer every question.
Each student receives a raw score based on the number of questions answered correctly, which is converted to a scaled score. Each of the four sections – English, Math, Reading, and Science – is out of 36. Those four scores are averaged together for the composite ACT score, also out of 36. The essay is scored separately by two independent graders. Each grader gives the essay a score of 1-6 for each of four areas: Ideas and Analysis, Development and Support, Organization, and Language Use. These ratings are added together and averaged for an essay score out of 12. The essay score is not factored into the composite score.

The ACT provides College Readiness Benchmarks for the English, Math, Reading, and Science sections. These represent the score that a senior should reach to consider himself "college ready" in that particular discipline. In addition, students will receive an English Language Arts subscore and STEM subscore to describe their performance on Verbal and Math/Science concepts. In general, these scores will have little to no impact on college admissions and students should focus more on the composite scores.

GLC's Tips on Handling ACT Scoring
DO answer questions you know.
Each question is worth the same amount of points, so the smart strategy is to find the ones you know you can answer correctly and avoid spending time on the ones you don't know.
DO understand the rubric the graders use for the essay.
You should be familiar with sample essays that received low, medium, and high scores so you can get the highest score you can.
DON'T worry too much about subscores.
Your composite scores will be much more important to colleges, so while you're taking the test, just worry about getting as many questions right as you can.
DON'T forget about process of elimination.
Since all of the questions on the ACT are in multiple choice format, eliminate wrong answers to improve your chance of locating the right answer.
At the end of the day, students prepare for the ACT because they want to boost their scores. Since 1998, we've helped over 5,000 students in Northern Virginia and Charlottesville improve their test scores! Click the button below to learn more about our programs, view class schedules, or register for ACT Prep.
ACT Success at GLC!